What are Bamboo Socks?
Today, the idea of healthy life also shows itself in the field of clothing. Fabrics prepared with yarn made from natural materials are preferred in socks textiles, as well as upper clothing, outerwear, home textiles and bedding sets.
Bamboo socks
 that fully comply with this definition are made of quality materials and are extremely popular with users.
As a tree grown in the Far East, especially in China, it is first processed into yarn in our country and then turned into socks. China is also the region where bamboo plant is grown most intensively in the world. We should also add that bamboo fabrics are obtained as a result of long processes.
Bamboo Socks Features
Bamboo socks respond to the expectations of all users in terms of their features. There is kun material in bamboo socks produced specially for you. For this reason, it does not cause any allergies on the skin. Moreover, you should know that bamboo fiber is softer than even the softest cotton. Despite being soft, bamboo yarn is extremely durable and resistant against wear. Moreover, due to the air permeability in its texture, your feet are allowed to breathe comfortably.
"Why should bamboo socks be preferred?"
The answer to this question is; good air permeability, rapid absorption of sweat on cotton, and odorless socks features. Thus, the bubbles that appear on the feet are prevented. In addition to all these, it is necessary to mention the
non-sweaty socks
feature of bamboo. In addition, bamboo socks models are often recommended for diabetes and fungal patients because they prevent infections and complications that may occur on the skin. With their flexible and comfortable structures, they support the foot care of diabetic patients.
How to Distinguish Bamboo Socks?
"How to Distinguish Bamboo socks?" If you are asking this, we would like to point out that it is difficult to distinguish socks made of real bamboo yarn, as bamboo is very similar to viscose-modal yarns as a result of fiber transformation in cellulose environment. The fact that real bamboo does not have a very bright appearance and that situations such as pilling is never occures, makes it easier to choose. Therefore, you can choose among the bamboo yarn certified brands.


In use, socks gain a softer texture as you wash them. Bamboo socks are generally recommended especially for people who have fungal problems in their feet. It is also important to use bamboo socks to permanently eliminate foot odor along with foot fungus.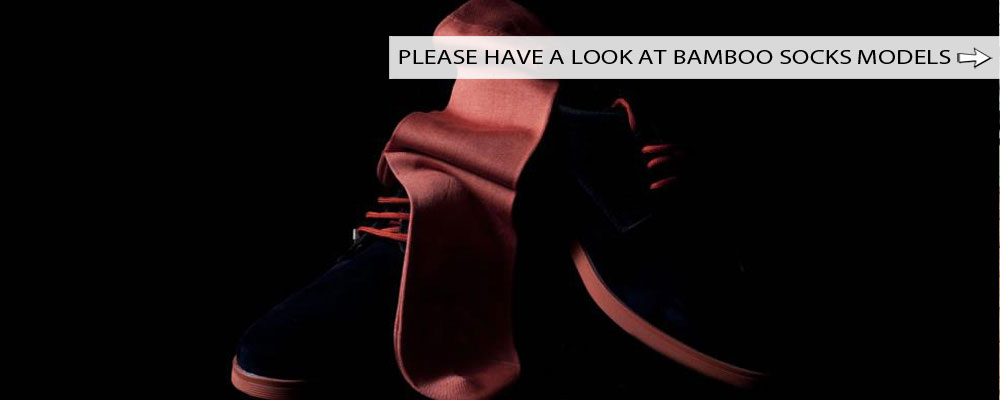 Bamboo Women's Socks Models
Bamboo women's socks models have an extremely rich range. You can take a look at our models that appeal to the taste of all women with different colors and patterns. Bamboo booties socks, which are widely used in hot and sunny weather, protect the feet against heat and harmful rays of the sun. Moreover, bamboo fibers keep more than 70% of bacteria out and prevent them from spreading. As a result, they keep the feet dry for a long time. You can choose among our women's bamboo socks models in terms of both your health and comfort.
Printed, colored printed, colored macaron printed models attract the attention of all users with their vivid colors. Moreover, in addition to cat, striped and heart models, solid colors of blue, pink, white and black are also available from 6 to 12 pairs.
Bamboo Men's Socks Models
Bamboo socks types are not limited to their production for women. Bamboo men's socks models are also offered by considering the comfort and taste of all gentlemen. In addition to solid colors such as black, navy blue, brown and gray produced for men, you can examine patterned, stitched and seamless models. Moreover, while you can choose bamboo socks that keep the feet cool in summer, you can also evaluate bamboo wool socks varieties for winter to keep the feet warmer.

It is possible to get bamboo men's socks in pairs of 4, 6, 10 and 12. Men's socks known as non-sweating bamboo socks are among the number one preferences of the users due to their smooth and skin-hugging texture.
Bamboo Socks Prices
Bamboo socks offer options for every budget in terms of prices. We can say that products sold in multiple sets are more economical and useful than single products. In addition, discounts and campaigns are organized in the bamboo socks category at certain times of the year. By following our site, you can be informed about the discount periods quickly, and you can add the product you want to your basket.