Planned Delivery : 30.11.2023 -
Features
Delivery Information
:
2 Work Days
Note: TRT Z Takımı is a licensed product.
Bolero Original Licensed Z Takımı Kids Socks Model
Get ready to join the rest of the adventure with Z Takımı licensed Bolero socks, the energetic youth movement that can't get enough of playing!
Product Composition:
65% Cotton - 20% Polyamide - 20% Polyester - 2% Elastane
Product Features:
- TRT Child's popular cartoon series Z Takımı socks are ready to cheer up children with Bolero Socks quality.
Age and Size Chart: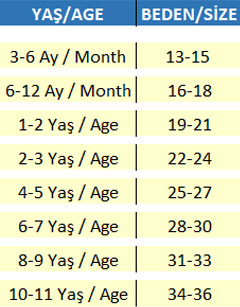 "Color differences may vary depending on the angle of incidence of light."