Planned Delivery : 22.09.2023 -
Features
Delivery Information
:
2 Work Days
Bolero 3-Pack Girls Knee High Bow Kids Socks
Product Composition:
80% Cotton - 15% Polyamide - 5% Elastane
Product Features:
- Since it is made of high quality combed cotton, its texture and structure are of top quality.
- The non-pressure elastic band does not leave any marks on the skin and its extra flexible structure provides healthy blood circulation.
- Quality workmanship and quality material mix guarantees long-term sock life.
- As a result of the combination of high quality cotton fibers with special processes, healthy air circulation allows the foot to breathe and prevents discomfort.
Age and Size Chart: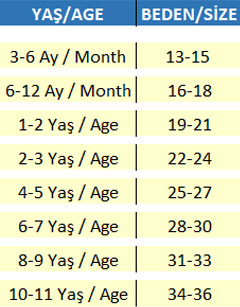 "Color differences may vary depending on the angle of incidence of light."